After two years of renovation and expansion the new OCA has reopened for science operation again. The refurbished observatory features a new energy grid and a new internet connection. The windmills have been dismounted and area of the solar panels has been vastly increased. To store the energy for night operations the battery system has been replaced and expanded.
The new internet connection is now directly managed by ESO avoiding high maintenance costs and broken fibres.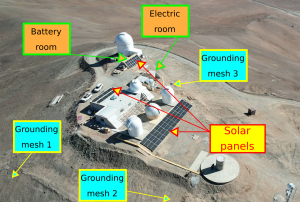 CAMK installed new 0.6m and 0.8m telescopes replacing the old VYSOS16″ Newton and BEST-II. New domes have been erected to host the new telescopes. A new 1.6m telescope will be installed in 2024 feeding the FEROS spectrograph.
BMK10k will restart observations after reconnecting the power, network and server infrastructure.